A perfect match on Design for Me… for a bungalow conversion
The clients, Pascal & Laura, posted their project to Design for Me, looking for a talented designer/architect for a bungalow conversion into a larger two storey family house. The work comprised a full renovation and extension to their bungalow in Sevenoaks, Kent. They registered their project with just a few key details and we instantly matched them up with some fantastic designers.
Photography by Billy Bolton
Pascal & Laura's project description
"De-bungalowing of a two bedroom 1950s bungalow in Ide Hill, close to Sevenoaks. The work will include ground floor renovation and extension, and a large loft conversion."
Find your perfect design pro within minutes…
Here at Design for Me, we've helped thousands of homeowners all over the UK to find the best architect or designer for their project.
✓ Get matched within minutes and see who's interested.
✓ Get no obligation quotes.
✓ It's completely free.
Through Design for Me, the clients narrowed down their search by speaking to three architectural studios, and ultimately found the perfect fit for their project in Hubert and Elin. Here's what the client said:
"Based on their previous work and our introductory meetings, we felt their design aesthetic matched ours – clean lines achieved without sacrificing the warmth of a family dwelling; architectural centrepieces to draw the eye without imposing on the overall design; practicality; and a high quality finish. Almost as importantly, they were clearly energised by their work, and we knew we could rely on them to deliver the project…"

You can see Hubert and Elin's profile below and shortlist them for your home building or renovation project:
A successful project all round
Hubert:
"We really enjoyed this project. An amazing location! The success of a project always relies on the combination/relationship of studio/client/team and Pascal and Laura really were fantastic clients. They even participated in the final photographs, which was the first time they saw their new property in the flesh!"
Pascal and Laura:
"Our initial assessments were proven correct, and more:
– They delivered a beautiful home, which is not just wonderfully built, but a place we truly want to live in.
– They listened and sought to understand our tastes, needs and desires. They then guided us through and executed on a design which achieved all these within our budget and the strictures of an AONB(Area of Outstanding Natural Beauty).


In respect of project implementation and management, they were exemplary with:
– the identification and selection of builders
– the permission process and dealings with local authorities
– the sourcing and choice of materials and fittings
– the supervision of all project elements and teams
– maintaining open consultation with us throughout the process, but in a balanced manner – they correctly identified which decisions needed to pass through us.
The last point was particularly important as we moved to the Netherlands just as the build started. We had no concerns about our inability to be on site and control the project – we knew we could trust them.
The project was delivered on time and on budget, and without any material issues or surprises thanks to their detailed planning. 
Finally, we truly enjoyed working with them – they are creative, committed to their work, and to their clients."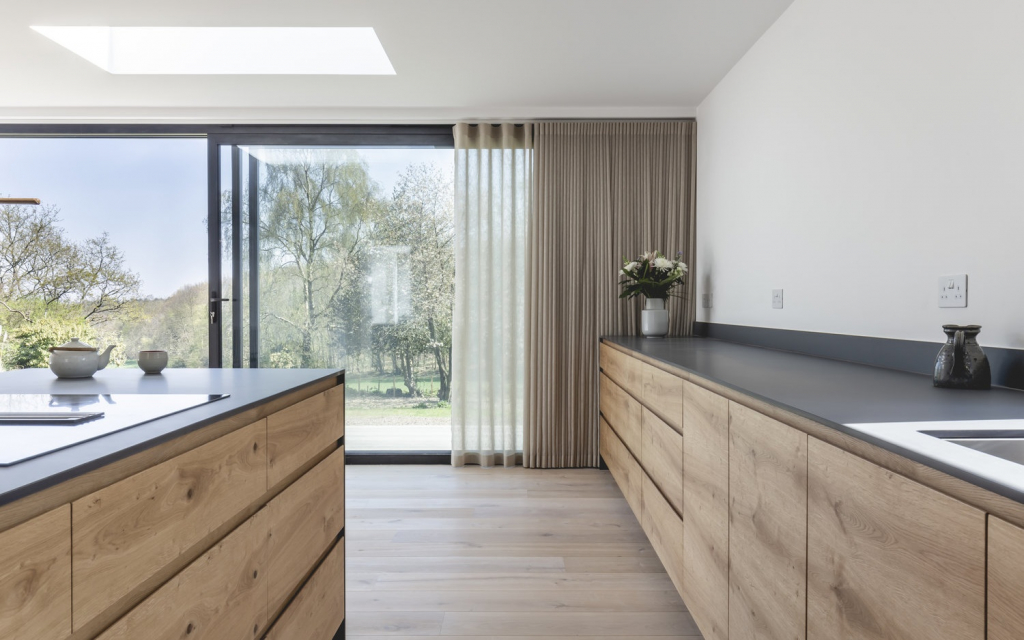 If you're looking for the right architect for your home building or renovation project, we're here to help. Simply post your project below and we'll match you up with the best architects for your requirements. And it's completely free!
Quickly see who's interested in your job
Create a shortlist
Invite up to three for a no-obligation consultation

Find your perfect design pro within minutes…
Here at Design for Me we match you with the right design professional, from thousands all over the UK. Get quotes & arrange up to three no obligation consultations. And it's all completely free! Find out more here or get started below…