There are no universal space standards for homes in the UK nor are there universal minimum room sizes. Instead, there are regulations that exist for different circumstances and project types.
In any home building or renovation project, the two main statutory obligations you will need to fulfil are planning permission and building regulations approval (building control). Where planning permission is not always required, building control approval almost certainly will be. Both planning and building control legislation refer to minimum space standards in certain circumstances and you should check whether any of the below apply to your project.
Image above from the Design for Me profile of interior designers, Deborah and Caroline. See their profile and shortlist them for your home project.
Find your perfect design pro within minutes…
Here at Design for Me, we've helped thousands of homeowners all over the UK to find the best architect or designer for their project.
✓ Get matched within minutes and see who's interested.
✓ Get no obligation quotes.
✓ It's completely free.
Planning requirements – minimum space standards
In 2015 a nationally described space standard was published in an attempt to replace local standards. However, it's still up to your local authority to decide if they will accept applications that conform to these standards or set their own.
Since April 2021, these space standards now apply to new homes built under permitted development, for example barn conversions under Class Q. These minimum space standards are regulated as part of the prior approval process.
Minimum bedroom sizes for new homes
from the nationally described space standard:
a single bedroom to have a floor area of at least 

7.5m2

 and to be at least 

2.15m

 wide

a double (or twin bedroom) to have a floor area of at least 

11.5m2

a double (or twin bedroom) to be at least 

2.75m

 wide and every other double (or twin) bedroom in the house to be at least 

2.55m

 wide.
Minimum space standards for HMO
If you apply for or renew an HMO licence on or after 1 October 2018, bedroom sizes must be at least:
6.51 m2 for one person over 10 years of age
10.22 m2 for two persons over 10 years
4.64 m2 for one child under the age of 10 years.
Any room of less than 4.64 m2 may not be used as sleeping accommodation. Landlords must notify the local housing authority of any room in the HMO with a floor area of less than 4.64 m2.
Building Control – minimum space standards
Although the building regulations do not specify minimum room sizes, they do contain requirements regarding movement around the space – space for wheelchair users, minimum door widths and corridor widths.
Minimum ceiling heights – building control
There is also no minimum room height defined by the Building Regulations, but there are rules around staircases and access.
Part K of the Building Regulations is all about 'protection from falling, collision and impact', and advises that the head height for landing and stairs should be at least 2m as shown in the diagram below (from Approved Document K):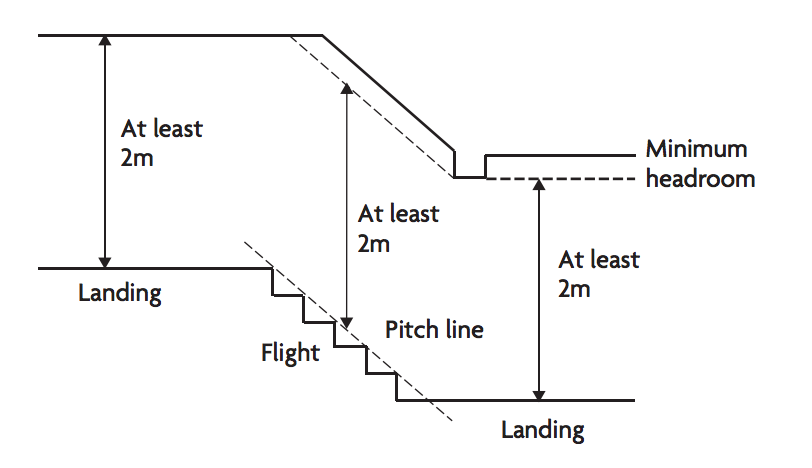 There's a very handy exception to this rule for loft conversions:
Finding the best layout
An architect or home designer can help you plan your layout, and ensure it meets the minimum necessary space standards. Navigating planning and building control regulations can be complex, so it's usually a sensible idea to use a design professional to submit the applications on your behalf.
Find your perfect design pro within minutes…
Here at Design for Me we match you with the right design professional, from thousands all over the UK. Get quotes & arrange up to three no obligation consultations. And it's all completely free! Find out more here or get started below…