You don't need planning permission for a loft conversion or extension if the work falls within permitted development rules, and these rules apply to your property. Generally, the following types of loft conversion will not require planning permission:
A basic conversion of your existing loft into a habitable room (e.g. bedroom), perhaps inserting skylights. Note that any side-facing windows must be obscure glazed and non-opening to comply with permitted development rules.
A rear dormer extension. This will gain additional headroom. Note that a dormer to the principle (usually front) elevation would require planning permission.
A hip to gable roof extension. This is a side extension when your existing roof slopes at one or both sides as well as the front and back. It's common to do this in combination with a rear dormer. See the diagram below.
Roof conversion design above by Ben, architect from London. See more and shortlist them for your home project here.
Find your perfect design pro within minutes…
Here at Design for Me, we've helped thousands of homeowners all over the UK to find the best architect or designer for their project.
✓ Get matched within minutes and see who's interested.
✓ Get no obligation quotes.
✓ It's completely free.
What are the permitted development rules for loft conversions?
Permitted development rules for loft conversions:
1. An extension beyond the plane of the existing roof slope of the principal elevation that fronts a highway is NOT permitted development.
2. Materials to be similar in appearance to the existing house.
3. Cannot extend up beyond the existing highest point of the house.
4. No verandas, balconies or raised platforms.
5. Any side-facing windows must be obscure glazed and non-opening unless the parts which can be opened are more than 1.7 metres above the floor of the room in which it is installed.
6. Must not exceed 40 cubic metres for terraced houses and 50 cubic metres for detached and semi-detached houses. 
7. Roof extensions, apart from hip to gable ones, to be set back at least 20cm from the original eaves. The 20cm distance is measured along the roof plane (fig.1).

fig.1

Summarised from information provided by the Planning Portal. Please consult with your local planning department directly before undertaking your extension.
Do permitted development rights apply to your property?
Be aware that some properties don't have permitted development rights, so it's unlikely that you'd be able to build your extension without submitting a full planning application. You should check with your Local Planning Authority whether permitted development rights apply to you but in the following cases they usually do not:
flats and maisonettes
listed buildings or properties in a conservation area
other protected areas including: national parks, Areas of Outstanding Natural Beauty, the Norfolk or Suffolk Broads and World Heritage Sites
Do I need building regulations approval for a loft conversion?
Yes, it's a legal requirement and without approval your local council could force you open up or re-build sometimes significant aspects of the project. It could even lead to prosecution and fines.
There are a few ways of obtaining approval detailed in our other recent post here but for a loft conversion, the most common route is to submit a building notice to the council before the work starts. Make sure you consult with your builder and/or architect and agree who will be responsible for this notice.
We'd strongly recommend working with an architect as you will need to be confident that the work will comply with building regulations, otherwise you might have to demolish/re-do any work that does not comply.
If you'd like some help finding the right architect for a loft extension visit our home page to find out more.
What are the building regulation requirements for a loft conversion?
The Approved Documents provide guidance on ways to meet the building regulations. Your architect or architectural technologist should have a good knowledge of these guidelines, and they will advise and implement them during the design process.
Building regulation requirements for a loft conversion
There are a few key areas of the building regulations that often crop up in loft conversion projects, namely: structural stability, fire safety, ventilation, staircase design, thermal insulation and sound insulation. Firstly, you will almost certainly need a structural engineer – ask your builder and/or architect to recommend one. Likewise, your architect (or builder's in-house architect) can specify the insulation and provide details to ensure the ventilation, thermal and sound insulation aspects meet building regulation requirements.
Here are some frequently asked questions, which relate to the spatial design of your loft conversion:
1. How steep can stairs be?

The maximum 'rise' and and minimum 'going' of each step should be 220mm. BUT the pitch of the stairs should be no more than 42°, so one or both of these 220mm dimensions have to be adjusted. 
See section 1 of Part K of the Approved Documents for comprehensive guidance on stairs.

2. What headroom do you need for loft stairs?
The short answer is a clear headroom of two metres. However, there is an allowance in approved document K specifically for loft conversions. See the diagrams below: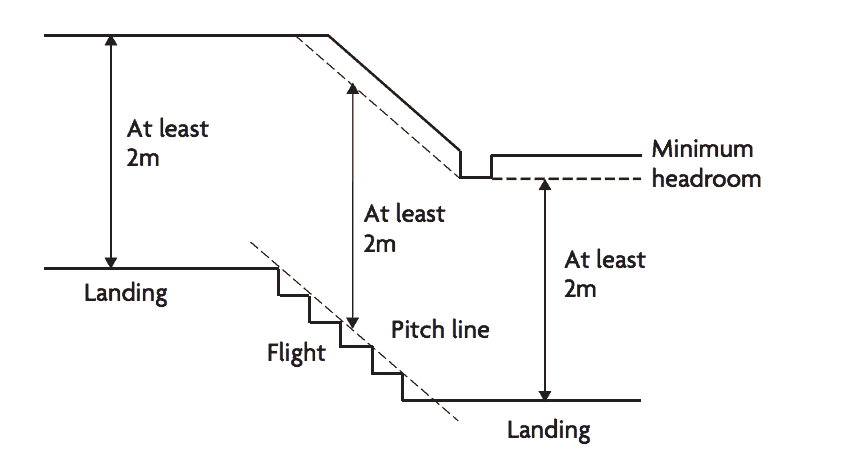 3. Do we need fire doors?
If you are adding an extra storey onto an existing two storey house, you will need to make sure there is a safe route of escape in the event of a fire (a 'protected staircase'). Usually, this means the stairs and hallway cannot be open to other rooms and these rooms must all have doors which have a 30-minute fire rating. So you might need to upgrade or replace your doors. There may be another option which would be to install a sprinkler system; this can involve a complex design and is best undertaken by a specialised designer before being checked by a Building Control Body such as an Approved Inspector.
The information and diagrams below are a summary and our interpretation of the Approved Documents and we strongly recommend that you take advice from your architect and/or refer to the full Approved Documents before designing and detailing your project.
How much does a loft conversion cost?
In our recent article about renovation and extension costs, we estimated that a loft conversion should cost between £1,500-£2,000 m² in London/South East. However, costs could be considerably less in other parts of the country.
Or course, if you're looking at doing a roof extension, the cost could be greater.
See our other article here on roof conversion types and their costs.
Do I need to get my freeholder's permission to convert my loft?
If you are a leaseholder or have a share of freehold, then it will usually be necessary to get permission from the freeholder/other freeholders to undertake the work. First of all, you will need to read your lease agreement carefully, and seek clarification from your solicitor. Check that you actually own the loft space . If you don't, expect to pay for it! They will probably start with getting a valuation for your property as it stands, calculate the uplift in value the extension will create and ask for a percentage of the profit you would make.
Even if you do own the space, you should expect to pay fees relating to gaining the consent. The freeholder is likely to appoint a solicitor and structural engineer to check that your proposals are structurally sound and you will be liable to cover the cost of these services.
Do I need my neighbour's permission to do a loft conversion?
If you share one or more walls with neighbours, then it's likely that you will need to have a Party Wall agreement in place before starting work. You have a legal obligation to give your neighbour(s) 1-2 months' notice before starting work (depending on what the work is). If you're unsure whether the Party Wall etc. Act applies to you, speak to your architect or find a Party Wall surveyor.
How much value will my loft conversion add?
Loft conversions can add up to 20% onto the value of your home according to Nationwide Building Society. They are typically cheaper than other home extensions in relation to the additional floorspace. They can also quickly add space to your property without being too disruptive – you shouldn't need to move out while the work is going on.
Finding the right designer/builder
Design for Me helps homeowners find the right architect or designer for their project, no matter how big or small. We have residential architects, technologists, and also designers from loft companies registered with us. Once you've posted your project, we'll send it out to all your best matches in your area to see who's available and eager to take it on. You can choose up to three for a consultation. There's no obligation to take it further with anyone, AND it's completely free! 
Find your perfect design pro within minutes…
Here at Design for Me we match you with the right design professional, from thousands all over the UK. Get quotes & arrange up to three no obligation consultations. And it's all completely free! Find out more here or get started below…