More and more people in the UK are considering building their own home, particularly as getting onto the housing ladder is becoming increasingly less affordable. There are new government initiatives to encourage self-building in an effort to help solve the nation's housing crisis with bodies such as the 'National Custom and Self Build Association' (Nacsba) behind them.
Unfortunately mis-conceptions about self-building are still common, which may be the fault of TV shows like 'Grand Designs', where the people behind the builds appear to be incredibly brave/obsessive or, well,… loaded. There needs to be a change of mindset here. Good architecture for your home isn't about being 'off-the-wall' or expensive, it's about responding to your needs as the occupant. A successful project will result in a house that you will not only enjoy living in every day, but will also meet the requirements in your brief – and a major part of your brief is your budget! So let's start with the million dollar question…
Find your perfect design pro within minutes…
Here at Design for Me, we've helped thousands of homeowners all over the UK to find the best architect or designer for their project.
✓ Get matched within minutes and see who's interested.
✓ Get no obligation quotes.
✓ It's completely free.
how much does it cost to build a house in 2019?
With some clever design and project management, it is possible to build an inexpensive house for under £100k. Homebuilding and Renovating magazine have compiled a pinterest board with some great examples of what can be achieved when planning a budget self build home.
Building an inexpensive house – 5 ways to build a low cost house
It's all in the Design and Planning
Most of your cost saving exercises will take place during the design and planning phase of the project. A thoroughly well considered design that's weighed up all cost ramifications could save you a fortune! It's well worth taking the time to find a good architect to get this bit right. Their fee is a small percentage of the build cost, but the right design can end up saving you more money overall (as well as providing you with a home you'll love!) So, behind every great project is a great architect and we asked some of our architects on Design for Me to share their tips on the cheapest way to build a house:

1. Keep the geometry simple
A surefire way to add additional costs to your self build would be to start with a fussy plan, full of curves and complexities. Labour will represent a big chunk of your self build costs so it's worthwhile interrogating every aspect of the design. For each detail or junction, your architect should think: how complex (and costly) is this to build?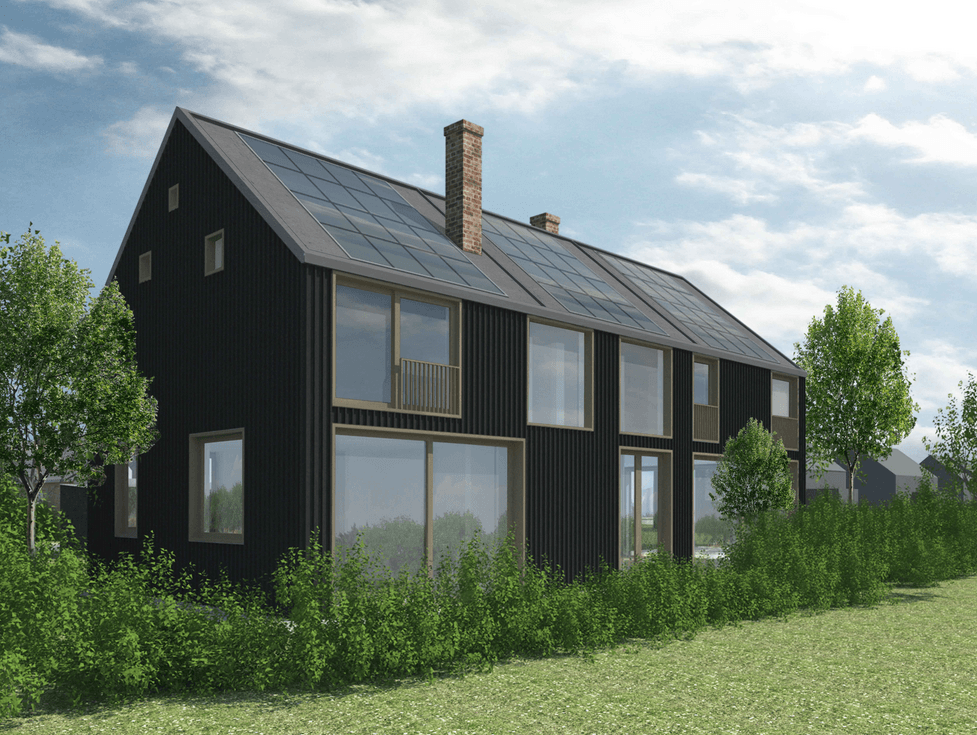 A house design of simple geometry by Tom, London from Design for Me Click on the image to see his full profile.


2. Consider your construction method and materials carefully
There's no one 'cheap' solution here and you should be weighing up this decision against factors other than the cost of the materials. Durability, life-span and maintenance will all affect the overall cost of your house over a given period. Do you imagine living in this house for the next 25 years? 50 years? 100 years? A cheaper construction now may not result in the cheapest overall cost during its life-span. A similar argument can be made for the build's eco-credentials. For example, it may be well worth spending a little more getting some really efficient insulation in the walls to keep your heating bills down for years to come!

An eco-conscious house built to last, using local stone to provide a robust construction. An award winning design by Murray, London from Design for Me Click on the image to see his full profile.

3. Labour costs 
Labour can account for a high proportion of overall costs, so you may consider doing it yourself as much as you can. This decision will certainly affect the construction method you go for.
According to Homebuilding.co.uk, for a 'good' quality 100m2 house in the SE of England, it's 18% more expensive to have a main contractor to build and manage the project, than going the DIY route with only some help from subbies. 

4. Be efficient with floor area
Square footage is of course a significant contributor to the cost our your self build, and with the help of your architect, it's worthwhile finding clever ways to reduce the footprint but still get your wish-list. However, you will find that economies of scale come into play so each additional square foot should cost slightly less than the previous one!

A space efficient living space, maximising storage opportunities by Ben, London from Design for Me Click on the image to see his full profile.

5. Space planning
Open plan living is ever more popular in new homes, and with good reason; it brings in more natural light and provides a more sociable living environment. However, huge unobstructed spaces can end up being very costly due to the additional structure (usually steels in the ceiling) required. There are ways around this, like adding columns to reduce steel spans. These columns or structural walls will need to be carefully placed to ensure they have minimal impact on the flow of spaces/views etc. Again, this is where a good architect will come into their own!

This open plan kitchen/diner has a relatively small width, keeping structural costs down. The height of the space helps give a feeling of additional space and light. By Murray, London from Design for Me Click on the image to see his full profile.

Finding the right architect / design professional
The right architect, who can help you find the best ways to plan and save, can prove to be worth their weight in gold! However, if you are still considering reducing your self build costs by saving on professional fees, you might consider hiring your architect for the early design phases of the project and not engage them for the construction phase. As part of their quotation, they will split up their fee into the different phases of the job so you can even decide how much or little you will use them as you go!
Here at Design for Me we specialise in helping homeowners with any home building project (no matter how big or small the budget!) to find the right architect or design professional to work with – and it's free! – Just tell us a bit about your project and we'll match you with the right professionals:
Emily  Design for Me
Find your perfect design pro within minutes…
Here at Design for Me we match you with the right design professional, from thousands all over the UK. Get quotes & arrange up to three no obligation consultations. And it's all completely free! Find out more here or get started below…