When asking, 'can I convert my loft', there are various things you need to be aware of here – it may not be a straight 'yes' or 'no' answer. For example it could be possible, but would come at a cost that could not be justified or the space created may not be suit your needs.
The below is intended as a quick checklist, but the best way to assess the feasibility of your loft conversion is to ask an architect.
1. Minimum ceiling height for loft conversions
Is there enough headroom to convert my loft?
If you haven't already, get up into your loft with a tape measure (but only if it's safe, obviously). Do be aware that you will probably lose some height because of the need for insulation and floor/ceiling finishes (roughly 20-25cm). It may be slightly less or more than this, but depends on your existing roof structure, which also may need to be configured to remove any struts that you currently need to step over to move around the space.
So, if you measure from the existing ceiling joists up to the highest point or ridge beam, there will need to be at least 2.2m (see diagram below) to achieve a minimum ceiling height of 2 metres.
You can read our full article here on minimum heights in homes
Average ceiling heights
You may be pleased to hear that there are no legal requirements for ceiling heights in homes in the UK (except where stairs are involved – see the building regs. section below). However, there are expected standard ceiling heights. If you want to sell your house in the future, I'd recommend sticking to these:
Minimum ceiling height : 210 cm (200cm if really pushing it!)
Standard ceiling height: 240 cm
Good ceiling height: 260 cm
You could get away with 210 cm – 240 cm for studies, bathrooms, children's rooms etc. quite easily, but I'd recommend keeping above 240 cm for living areas and master bedrooms if you can.
Sloping ceilings
In a loft conversion, try and arrange the layout so storage or furniture is positioned in these areas keeping the highest points free for moving around in. Ideally, at least 50% of the space should have a ceiling height of 210cm or above.
Find your perfect design pro within minutes…
Here at Design for Me, we've helped thousands of homeowners all over the UK to find the best architect or designer for their project.
✓ Get matched within minutes and see who's interested.
✓ Get no obligation quotes.
✓ It's completely free.
2. Stairs
Minimum ceiling height – building regulations
As mentioned above there is no minimum room height defined by the Building Regulations, but there are rules around staircases and access:
Part K of the Building Regulations is all about 'protection from falling, collision and impact', and advises that the head height for landing and stairs should be at least 2m as shown in the diagram below (from Approved Document K):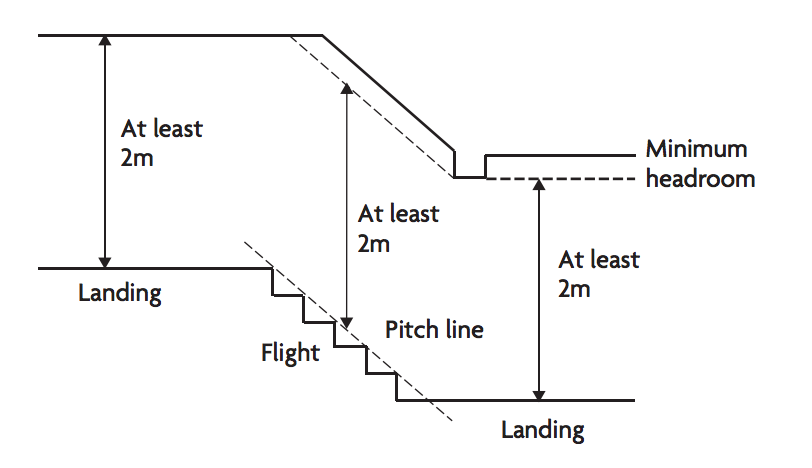 There's a very handy exception to this rule for loft conversions:
How steep can the stairs be for a loft conversion?
The maximum 'rise' and and minimum 'going' of each step should be 220mm. BUT the pitch of the stairs should be no more than 42°, so one or both of these 220mm dimensions have to be adjusted. 
See section 1 of Part K of the Approved Documents for comprehensive guidance on stairs.

3. Fire
To meet building regulations, there must be a 'protected' escape route, meaning the stairs and hallway cannot be open to other rooms and these rooms must all have doors which have a 30-minute fire rating. So you might need to upgrade or replace your doors. There maybe another option which would be to install a sprinkler system, this can involve a complex design and is best undertaken by a specialised designer, before being checked by a Building Control Body such as an Approved Inspector.
4. Planning permission
Certain loft conversions do not require planning permission if they fall within the permitted development allowance. (Note: permitted development applies only to whole houses, and not flats or maisonettes, or if you are in a conservation area).
5. Freeholder consent
If you are a leaseholder or have a share of freehold, then it will usually be necessary to get permission from the freeholder/other freeholders to undertake the work. First of all, you will need to read your lease agreement carefully, and seek clarification from your solicitor. Check that you actually own the loft space. If you don't, expect to pay for it! They will probably start with getting a valuation for your property as it stands, calculate the uplift in value the extension will create and ask for a percentage of the profit you would make.
Even if you do own the space, you should expect to pay fees relating to gaining the consent. The freeholder is likely to appoint a solicitor and structural engineer to check that your proposals are structurally sound and you will be liable to cover the cost of these services.
6. Party wall consent
If you share one or more walls with neighbours, then it's likely that you will need to have a Party Wall agreement in place before starting work. You have a legal obligation to give your neighbour(s) 1-2 months' notice before starting work (depending on what the work is). If you're unsure whether the Party Wall etc. Act applies to you, speak to your architect or find a Party Wall surveyor.
Other helpful articles
How much does a loft conversion cost?
Can I apply for planning permission before I buy a property
Do you need planning permission for a loft conversion?
Check with an architect
The best way of understanding the feasibility of your loft conversion is to ask an architect. Simply post your project below and we'll match you up with the best architects for your requirements. And it's completely free!
Quickly see who's interested in your job.
Create a shortlist.
Invite up to three for a no-obligation consultation.

Find your perfect design pro within minutes…
Here at Design for Me we match you with the right design professional, from thousands all over the UK. Get quotes & arrange up to three no obligation consultations. And it's all completely free! Find out more here or get started below…